By Mademoiselle Bagatelles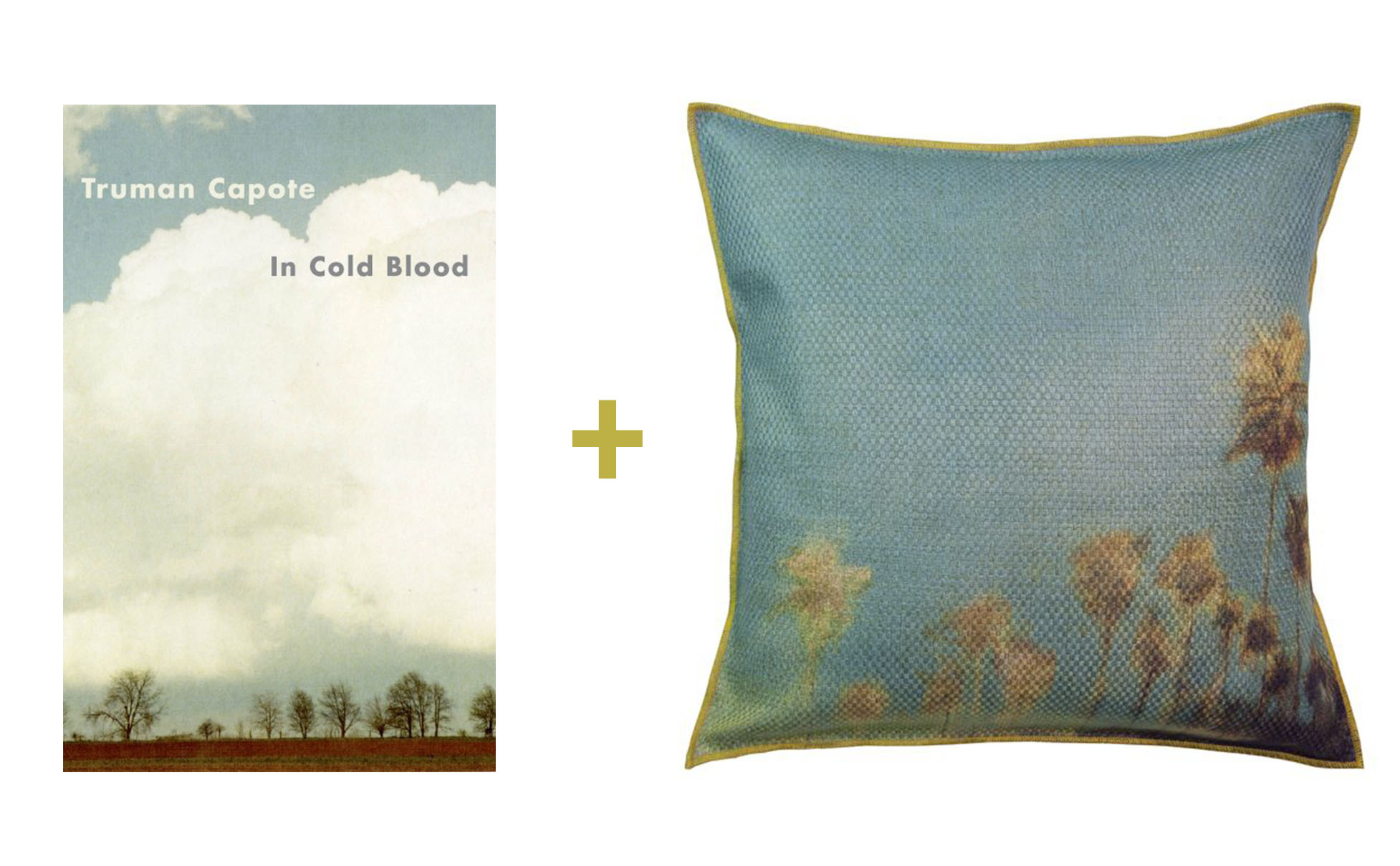 credits: In Cold Blood by Truman Capote/ photo William Eggleston / book cover designed by Megan Wilson via The casual optimist / cushion "Apaisante chaleur" geneviève lévy éditions
J'avais déjà commencé une série un livre/un coussin sur mon précédent blog. Je m'étais amusée à la préparer, et comme elle avait eu du succès, la revoici.
Il était une fois, j'étais une lectrice assidue et passionnée, du style « dévoreuse » ! Plus gros était le livre, mieux c'était! Il m'est même arrivée (à plusieurs reprises) de faire semblant d'être malade afin de pouvoir terminer mon livre (et par la même occasion, rester au lit un peu plus longtemps). De nombreuses nuits étaient consacrer à la lecture, jusqu'à ce que mes yeux ne puissent plus rester ouverts… Malheureusement, les changes ont changé depuis, et je me considère chanceuse si j'arrive à trouver une heure d'affilée pour lire ces jours-ci. J'aime toujours autant lire (ouf, soulagement de ma mère), mais je n'ai tout simplement plus le temps (parallèlement, ma capacité de concentration a aussi diminué). Je dois admettre que j'ai plutôt tendance à m'endormir sur mon bouquin au bout d'une demie-heure (quinze minutes). Et c'est là qu'un bon coussin confortable devient pratique! Et beau si possible ! Et comble du chic, coordonné à mon livre!
Pour ce premier round, un livre d'un de mes écrivains préférés, Truman Capote. Bien que je ne l'ai pas encore lu, j'ai vu le film Capote, qui raconte les expériences de l'écrivain pendant l'écriture du livre. Cette histoire poignante m'avait beaucoup marqué.
Le coussin, lui, vient de geneviève lévy éditions. C'est une agence de création textile (de fabrication française) qui adapte au linge de maison les travaux des peintres Haby Bonomo et Martin Reyna.
I had already started a series a book/a cushion on my previous blog. I had fun making it, and since my readers liked it, here it is again.
Once upon a time, I was a diligent and passionate reader, of the "greedy" style! The bigger was the book, the better! I even happened to pretend to be sick sometimes (several times) so I could finish my book (and thus, stay in bed a bit longer). So many nights were spent reading away until my eyes couldn't remain opened any longer…
Unfortunately, things have changed since then, and these days, I feel myself lucky if I find an hour to read. I still love it (whew, my mom can be relieved), but it's just that I don't find the time anymore (equally, my concentration skill has also diminished). I must admit that I tend to fall asleep, nose in my book, pretty quickly, after thirty minutes (fifteen minutes). And that's when a nice comfy pillow comes handy! And if possible pretty! And ultimate chic, coordinated to my book!
For this first set, a book from one of my favorite writer, Truman Capote. Although I haven't read this book yet, I've seen the movie Capote, telling the story of the writer's experiences in writing the story. I was truly touched by this poignant story.
The cushion comes from geneviève lévy éditions. It's a textile design agency (all theirs items are made in France). They create house linen based on the artwork of painters Haby Bonomo and Martin Reyna.